2017-2018 Crossroad
As we are at this crossroad between 2017 and 2018, we acknowledge our God's (Father, Son and Holy Spirit's) covenantal love towards us and our great daily need for His Presence, His revelation,  His voice, His grace, His shalom, and His strength. We also extend our gratitude to Chuck Pierce, Global Spheres and Glory of Zion for their apostolic-prophetic-intercessory covering.
We submit afresh to our call to "Worship~Prayer~Outreach" not only to the nations but to our city, our territory and our own nation. We decree and declare that we will obey His Word and Holy Spirit, will walk through the gates and open double door of His promises, and with His help and that of His angel armies, we will do our part to defeat the devil and change the world!
We will continue our mission to bring forth treasures that have been hidden in the darkness!!
Here is a look back at 2017:
The Promised Land – December & September
We have been blessed to be connected by Audrey Hosley of His Kingdom Reality to Dixie Forbes and The Promised Land.  We held a "Releasing Heaven on Earth" weekend encounter with her members back in September.
And then, in the midst of hearing the testimonies from our ministry in September, we returned for another glorious time this December which included inspirational Christmas Worship and a powerful exhortation by Kevin Blash.
God's Kingdom Women Weekend – November
Out of my heart passion to see Women Arise and take their ordained places in the Lord's legislative assembly, the Lord blessed me (Yvonne) to collaborate with other leaders in our "circle of love and honor" to host God's Kingdom Women Weekend at St. Christopher's Camp and Conference Center. (Special thanks to the host team and our two mighty men of valor who graciously assisted all of us throughout the weekend!)
Here is a testimony from one of the participants:
The Conference was AWESOME!! I had not been to a women's conference in quite a few years so I was excited and expectant from the very beginning. I had never experienced a bonfire before. Singing praises and worshiping God on the beach was a wonderful experience for me. The Holy Spirit was there to bless us each day and in every aspect of the conference including the seminars. The food and accommodations were great also. Most of all, there was a special group of people at the conference. Everyone was so friendly that by the time I left, I felt I was leaving my family behind. I didn't want to say "good-bye". I wish we all lived close enough to each other that we could get together on a regular basis. I pray that we will all come together again in the near future.
Rivers of Glory Mission – October & March
A 25-year+ journey to Kurdistan took the next step this past March. We were able to connect to a ministry in that region and send a small team in to walk the land and worship there! We were able to remotely join in prayer in October as international flights to the region have been temporarily suspended. Pray with us for this region – we are just beginning …
Awakening in the Park 2017 – October
We have connected with Life Church of Monroe and their youth pastors, Duane and Dawn Hunt, through our Worship Leader Doris Norwood.  We have actively participated in their church's prayer meetings and have held various training sessions with their Youth Group (Kontajus). In March of this year, the Lord gave both Duane and Dawn similar dreams about a Youth Revival Outreach – they have  called it – Awakening in the Park.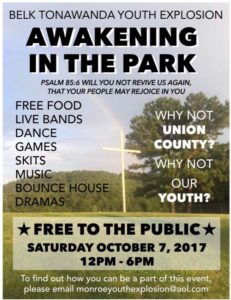 They had never planned an event like it before but when the LORD is in it, the results speak for themselves. They brought together churches, ministries, organizations and just individuals in the community – it didn't matter the denomination – it was about setting an atmosphere for the youth to meet with Jesus! We were able to participate through sound, worship and prayer support. The LORD responded to the heart cry of His people – His Presence was tangible from start to finish – even in the rain! Our prayer is that this wave of revival stretches out from Union County to touch our entire region. Duane and Dawn will host this event annually on the 1st Saturday of October – let's agree with them for our youth to be set on fire to do great exploits!
Chuck and Dutch in The Carolinas – September
"Unlocking the Winds of Glory" – September 5, 2017, CPCC Theatre
Chuck Pierce released The Wind – a new prophetic mantle – filled with Holy Spirit and led by Holy Spirit – the wind that came in Ezekiel 37 from the four corners of north, south, east, and west until it became a vortex, a tornadic wind of heaven, that began to breathe upon dry bones and cause them to come together, and fill them with life, and become an army – the roar of His Spirit coming through the Carolinas.
Dutch Sheets released The Voice of the Lord – His Voice to create, to birth, to resurrect, to bring direction, and to judge His enemies.  The Wind and The Voice crowning, realigning – breaking down race and class structures, accelerating – releasing the double portion mantle of anointing of harvest and evangelism from this place to the ends of the earth.
They also both gave confirming words about colleges & universities in our region. Just a few days prior to this gathering, we sent a team to UNCG  and while standing in front of their gym, I (Yvonne) saw a vision of revival  breaking out  – it looked like a modern version of the  revival tent meetings of the past. Stay tuned for a separate report on our College Prayer Walks and Launch of 145:4 Worship.
We were blessed to be there,  to have participated in the Thirteen Colony Prayer in Charlotte that July (see further below) and to have facilitated a Welcome Letter being given to Chuck and Dutch by our then mayor Jennifer Roberts.
Town of Bethania, NC – Forsyth County – September
While researching the history of Fayetteville for our ministry outreach there in October 2016, we discovered that Fayettevile was the hub of these plank roads that connected it to the Town of Bethania.
The longest plank road ever built in North Carolina, the Fayetteville and Western stretched 129 miles from the Market House in Fayetteville to the village of Bethania near Salem in Forsyth County.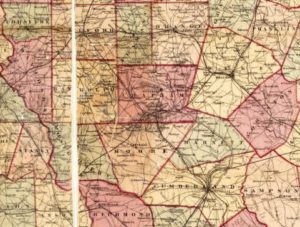 We had heard previously that Bethania, established in 1759,  is a part of the oldest Moravian settlement in North Carolina. Based on how the Lord linked us to the Moravians, we knew that we had to plan a visit to release the blessings of the work and faith of the Moravians who stewarded The Lord's Watch for over 100 years and thereby ushered in the First Great Awakening that helped birth our nation.
Gaffney, SC – Cherokee County – August
After participating in the Thirteen Colony Prayer Walk in July (see report below), we felt impressed to find a place in South Carolina that was close to Kings Mountain to release Worship.  In a past season, I (Yvonne) had been a part of a team that had gone there to pray into the battle that took place there that had "turned the tide" of the Revolutionary War. I found this small, family-owned historic theatre in Gaffney SC (which is the county seat of Cherokee County) – Capri on the Main established in 1936 which has been owned by Clyde and Mary Hudson since 1969.
The county had been home to the Cherokee, Catawba,  and Creek nations and was also settled by the Scot-Irish. The county is on the historic Overmountain Victory Trail.  Two battles of the Revolutionary War – Kings Mountain and Cowpens – were fought there. From its beginning, the area has had both a strong religious and education ethic, It also has a history of being a flourishing economic district – and has never been afraid to remake itself as needed to keep pressing forward.
So we celebrated their history and their future while we repented of and bound up things that would hinder it. We were particularly honored to have had the opportunity to pray for and bless the Hudson family. The Presence of the Lord was tangibly sweet and glorious as we exalted Him as the county's True Banner, Shield, Teacher, and Provider!
Yes, Lord, with grateful hearts, we bring forward that pioneering spirit, that warrior spirit, that spirit of industry and prosperity, that spirit of family and community – we bind up the brokenhearted-  we decree restoration – we loose hope and new life!
Thirteen Colonies' Prayer Walk with John & Sheryl Price, Embassy of Zion and Others – July
By the Spirit of the Lord, Chuck Pierce had commissioned John & Sheryl Price to prayer walk the original thirteen colonies. A portion of our team had been invited by Susie Zeigler & Anne Romanello to join their prayer walk in Charlotte.  We were particularly thrilled to be a part as the Lord had just released us to move our E4M Equipping Services back into the City and this prayer walk was touching the heart of Uptown Charlotte where we would be located starting that next month.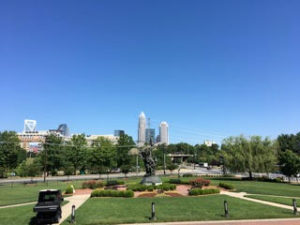 Captain Jack and the Thompson Orphanage
The prayer walk started at the statue of Captain Jack who was the rider that took the Mecklenburg Declaration of Independence to the Philadelphia Convention in 1775.  The site of the location was also a part of the Thompson Orphanage founded in the late 1800s. As prayers were being offered up to come against the orphan spirit in our city, some of our community currently homeless joined us.  So we were able to activate our prayers by ministering to them. Rose followed up with the young woman and, after several tries, Rose found out that she had returned home to her family. Praise the Lord! [John 14:18 (NIV) , "I will not leave you as orphans; I will come to you."]
Charlotte's Founding Crossroads – Trade & Tryon Streets
At Polk Park, named after one of Charlotte's earliest settlers and located at the intersection of two of the original Native American trade paths, we prayed about the City's prosperity. As a part of those prayers, we tapped into our city's gold mining history – there are still gold mine veins that lie underneath Uptown and there is a prophetic connection to the glory of revival and the Lord's real treasures. Note that one of the four pillar statues located at Trade & Tryon is a gold miner (representing commerce), and our football stadium is surrounded by gold mine veins – the stadium has been at the center of a prophecy about revival for our region and its first use was by  Billy Graham for one of his revival meetings! 
We also broke out in dancing and I (Yvonne) was able to ring my bell as a prophetic act for the decrees for freedom that were offered up! (The courthouse where the Mecklenburg Declaration of Independence was signed was located in the middle of the intersection of Trade & Tryon.)  Where the Spirit of the Lord is, there is freedom!

Settlers' Cemetery
We finished our prayer walk at the Settlers' Cemetery. We prayed there with thanksgiving about those who sacrificed their lives for our future generations; and we loosed decrees to establish and safeguard the future of  our youth and young adults. Spirit of God blow and turn their hearts back to your sure foundations!
Special E4Ms – May & June
We were blessed to have Rachelle Blash, "the daughter of our house",  teach us on "Healthy Living" at our Ephesians4Movement (E4M) Equipping Service in June. Rachelle is a student specializing in Nutrition at UNCG and a ZUMBA Instructor.  If you need a little conviction to help you get on a good path, here is her message and her notes. "Most things are okay if you eat them in moderation and keep your body moving!" And as we requested, Rachelle had us moving with a little ZUMBA at the end.
And  Debbie Hancock of Compassion To Act came to E4M in May – please connect with their ministry to hear about and support the work that they are doing. And if you  see activity that looks like someone is being trafficked, call the National Human Trafficking Hotline # 1-888-373-7888! BE INFORMED & BE AWARE!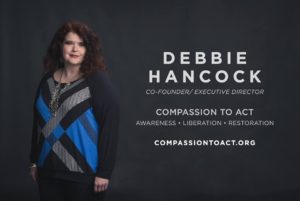 A few pics from Compassion To Act's (plus other organizations') Candlelight Vigil held in June in Uptown Charlotte as a part of a worldwide expression for awareness and support:
Memorial Day – May
We were blessed to worship again at St. Mary's Chapel.  located near the site of Mecklenburg County's Vietnam Veterans Memorial, to honor ALL of our fallen soldiers and ALL of our veterans, active military and their families. Freedom isn't free – may we never forget!
Uptown Worship Nights – May & April
We are blessed to be connected with several ministries that serve our city and region. Paul Gentilini is a revivalist and worshiper who oversees and stewards Uptown Worship Nights, which keeps the atmosphere of heaven hovering over the streets of our city. A portion of our team was able to hang out with the Uptown "King City" Team in May and April. You can find their team faithfully out on the streets at least twice a month from March to November.
New Alignment – Global Spheres, Inc. – March & June
In addition to being aligned with Chuck Pierce as a Ministry of Zion of Glory of Zion International, the Lord blessed us to be aligned with Chuck  in a new way. In March, we received and accepted an invitation to be a part of Global Spheres, Inc.  And in June, we attended our first annual meeting. We are excited and grateful – the Lord is fulfilling His promise to  position us for our role in His harvest!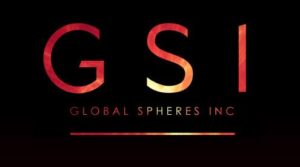 See other reports:
To stay updated with what the Lord has assigned for us to do in this region & beyond, keep checking this blog or "Like" our Facebook page. Also, check back regularly on our Itinerary post to see where we will be next!
If you are interested in our team serving your vision for transformation of your community through worship, prayer & outreach, please contact us!
To be a part of these and other mission assignments, please pray with us; please also consider making financial donations as Holy Spirit leads. Thank you!
p.s. We would love for you to join us on our Israel Tour 2018. It is the Land of Covenant & the Land of Promise!