The Altars of the Second Great Awakening – Do It Again Lord!
During a recent visit to Nashville, our friend Dabney told us that close by was the Masonic Lodge that had been the site of President Andrew Jackson's enacting a "treaty" with the Chickasaw Indians (part of the Indian Removal Act of 1830). For several months there had been a burn in my spirit about him and that act so I asked if we could stop there so that I could add in my prayers of repentance from the Carolinas since both North & South Carolina claimed him as a native son.
In the midst of our time in front of that lodge, Dabney pointed towards where Highway 431 ran through Franklin and spoke of the prophecy about the Lord re-firing the revival that had begun just a short ride away in Kentucky – that fire was best known as the Cane Ridge Revival and the Second Great Awakening but its spark started about an hour and a half up Highway 431 in Logan County, KY. 
James McGready
Immediately my spirit was stirred but I waited for about a week or so after my return to Charlotte while I researched and prayed. During my research, I found a recurring name – James McGready. McGready was born in PA, was of Scot-Irish descent, moved to NC as a youth, felt called to the ministry, was trained in PA but returned to minister in NC. After being run out of town for his fiery preaching, McGready ended up answering a call to pastor three churches in Logan County, KY – Gasper River, Muddy River, and Red River – arriving there in 1796. Some stories say that there was about a hundred or so other North Carolinians who made that journey – some who went before and some who followed. Some of the things that impressed me the most were the descriptions of his character and his faith in a prayer-hearing God.
Excerpt from the Cumberland Presbyterian archives:
These congregations were small, and in a low state of religious interest. There were among them, however, some living and earnest Christians. He made great efforts to arouse his people to a proper sense of their spiritual condition, as well as for the conversion of sinners. In order to effect his object more fully, he presented to the members of his congregation for their approval and signatures, the following preamble and covenant:
"When we consider the word and promises of a compassionate God to the poor lost family of Adam, we find the strongest encouragement for Christians to pray in faith–to ask in the name of Jesus for the conversion of their fellow-men. None ever went to Christ when on earth, with the case of their friends, that were denied, and, although the days of his humiliation are ended, yet, for the encouragement of his people, he has left it on record, that where two or three agree upon earth to ask in prayer, believing, it shall be done. Again, whatsoever you shall ask the Father in my name, that will I do, that the Father may be glorified in the Son. With these promises before us, we feel encouraged to unite our supplications to a prayer-hearing God for the outpouring of his Spirit, that his people may be quickened and comforted, and that our children, and sinners generally, may be converted. Therefore, we bind ourselves to observe the third Saturday of each month, for one year, as a day of fasting and prayer for the conversion of sinners in Logan county, and throughout the world. We also engage to spend one half hour every Saturday evening, beginning at the setting of the sun, and one half hour every Sabbath morning, from the rising of the sun,m pleading with God to revive his work."
To this covenant he and they affixed their names.
( from <http://www.cumberland.org/hfcpc/McGready.htm> )
"Wakey, Wakey"
So as I (Yvonne) prayed over all that I had found out, I knew Holy Spirit was sending us on a Wakey, Wakey prayer assignment as Pastor Beni Johnson from Bethel church would call it.  That assignment extended to Doris, our worship leader, and Lisa, our Strategic Prayer Outing leader.  Our main target was going through Nashville, visiting Logan County, driving down Highway 431 and thankfully we were able to stretch ourselves to include Cane Ridge Meeting House in Paris Kentucky.  (We later found out that at her founding as a city, Nashville was a part of the state of North Carolina.)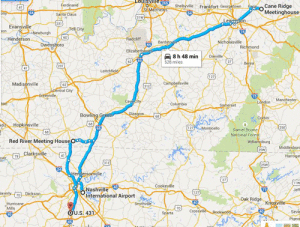 On our way!
Interestingly enough our trip landed on the transition weekend from the Month of Av (the month when we are challenged to believe the promises of God) to the Month of Elul (the month when the King is in the field).
We started our journey at Cane Ridge Meeting House in Paris Kentucky. During our 4-hour drive from Nashville to Cane Ridge, we shared some of the research, listened to revival messages from various leaders, and prayed for an awakening of our nation. Our cry was "Lord, send the revival fire from the Second Great Awakening to our nation once again – we are lost without you – our nation once again is full of lawlessness and our hearts have grown cold again – we need you Lord, only you can save us, do it again Lord!"
Cane Ridge Meeting House
Upon our arrival, we were graciously  greeted by the curator who shared with us the history of Cane Ridge. His talk, although dotted with doubt and unbelief, was filled with the reality that 25,000 people gathered on this high place for a solid week back in August 1801. They brought their cows and chickens and there were soldiers stationed nearby who helped cart water to what had become camp grounds. And the Lord indeed showed up – even in the first three days of rain, people were slain in the spirit ("the falling exercise") and literally rolled in the mud under the power of God. Although there was a mocking undertone from the curator, our hearts were filled with rejoicing to hear about this outpouring of Holy Spirit. The revival only ended because they ran out of food. And we cried out in our hearts for the Lord to do it again and that it would be unending.
About that time, a prayer group from River of Life Ministries had arrived. The curator had mentioned in an email exchange earlier that week that they may be meeting there from 3:00-5:00 pm that day. I had quietly hoped that we would be like-minded enough to connect even for a short while but had planned to just walk the grounds during that time. I felt that we were to somehow connect with people locally but our Nashville friends could not join us.
Needless to say, we were thrilled when Terri and Jean invited us to join them as they were a spirit-filled Assemblies of God group who were likewise there to stoke the fire for another great awakening. Their leader (Bert) had gotten held up in traffic but when he arrived he added in a CD of wonderful worship music that we gratefully were familiar with. We even prayed for Israel; and. at the end, Bert anointed us with oil from the Land. Hallelujah!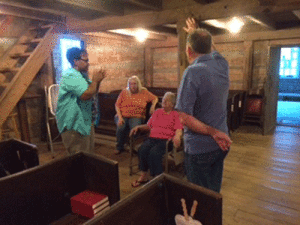 Logan County
We stayed overnight in Lexington and started out the next morning to head to Logan County.
Cane Ridge has received most of the notoriety as one of the key sparks of the Second Great Awakening because the response had swelled to 25,000.  (Those numbers at Cane Ridge were truly a sign as that part of the country was mainly farmland and without all of our modern conveniences of phones and the internet.) However the beginnings started with the small congregations in Logan County, where the membership counts were more like 20-35 people each.  And Logan County was the western frontier at that time and truly the wild, wild west,  – it was called the Rogue Harbor as it was a hiding place for outlaws and bandits. The nation itself was in a very hard place of apostasy – ideas such as Thomas Paine's The Age of Reason were circulating from the French Revolution and people had been hardened by the American Revolutionary war – their hearts and minds were generally very far from thinking about the Lord.
South Union and Russellville
Our goal upon crossing into Logan County was to find places close enough to where Gasper River and Muddy River Meeting Houses used to be and to also pray at and travel from Russellville (the county seat) down Highway 431 to Red River Meeting House.  So off we went riding across Kentucky to reach Highway 68 that went East and West across Logan County; it was a 2-1/2 hour journey, so we also prayed as we drove.
It was early Sunday morning when we reached South Union and the Shaker Village so we just prayed where we briefly stopped. The Gasper River Meeting House was reported to have been just a few miles from there.
We then headed to the town square in Russellville as another touch point and prayed there.  The Muddy River Meeting House was reported to have been five miles north.
Down Highway 431
Then we headed down Highway 431 to the Red River Meeting House and continued reading our research and praying. There were various reports of which location the revival actually started in and to which leader it could be attributed to but the thing that I loved is that these reports all came from various denominations – Methodist, Presbyterian, Baptist. This move of God was ecumenical and impacted both men and women and young and old and alike. Here is an excerpt of one of the personal accounts that we found:
From The Life and Times of Elder Reuben Ross, by his Son, James Ross, 1882:
http://digital.lib.ecu.edu/historyfiction/document/rol/entire.html:
Pages 233-239: "In the year 1799, several ministers of the Presbyterian Church,  Elders McGready, Hoge, [Hodge] and Rankin, and one belonging to the Methodist Episcopal Church, Elder John McGee, held a sacramental meeting, at the old Red River Church, which stood on or near the same site as the church of that name now does. The meeting drew together a large congregation,  considering the thinly settled country."
"On Sunday Elder Hoge [Hodge] preached and, as he was often heard to say afterwards, addressed the assemblage with a freedom and power, never before felt. The hearers though riveted in their attention, remained silent and quiet. As he closed his discourse, Elder John McGee rose, singing," 
Come, Holy Spirit, Heavenly Dove,
With all thy quickening powers,
Kindle a flame of sacred love,
In these cold hearts of ours.
"He had not sung more than the verse quoted, when an aged lady, Mrs. Pacely, [Paisley] sitting quite across the congregation to the left, and Mrs. Clark, also advanced in years, seated to the right, began in rather suppressed but distinct tones, to hold a sort of dialogue with each other, and to reciprocate sentiments of praise and thanksgiving to the Most High, for his grace in redemption. Still the preacher sang on, and the venerable ladies praised God, in louder tones. The preacher, still singing came down from the pulpit, intending to take the hands of these two happy old sisters; shaking hands, however, as he passed along, with all those within his reach."
"Suddenly persons began to fall as he passed through the crowd—some as dead; some most piteously crying for mercy; and a few, here and there, lifting their voices high, in the praise of the Redeemer. Among these last was Elder William McGee, who fell to the floor, and, though shouting praises, was for some time so overpowered as to be unable to rise. The other ministers, McGready, Hoge, [Hodge] and Rankin, were so surprised and astonished at this apparent confusion in the house of the Lord, that they made their way out of the door, and stood asking each other in whispers, "what is to be done."
Elder Hoge [Hodge] looking in at the door, and seeing all on the floor, praising or praying, said, "We can do nothing. If this be of Satan, it will soon come to an end; but if it is of God, our efforts and fears are in vain. I think it is of God, and will join in ascribing glory to his name.""He walked into the house where the others presently followed. Rapidly those who had fallen to the floor mourning and crying for mercy, arose, two or more at a time, shouting praise, for the evidences felt in their own souls, of sins forgiven—for "redeeming grace and dying love." So there remained no more place that day, for preaching or administering the Supper. From thirty to forty, that evening, professed to be converted."
"Thus began that wonderful religious movement, which not only pervaded Kentucky, Tennessee, and Ohio, but crossed the mountains, and spread over many of the states on the Atlantic seaboard. On account of the strange bodily agitations attending it, it was considered the most wonderful event of the times." 
(http://files.usgwarchives.net/ky/logan/bios/paisley356gbs.txt)
Red River Meeting House
When you first arrive to the meeting house site, there is a cemetery and flyers of its history along with a rock memorial where the original site was located. One of the things that struck me that Doris read from the flyer was that they had gathered here to pray for the restoration of the Christian heritage of this nation.
After spending time there reading the history and praying, we entered the meeting house. We opened up all of the windows and sat down on the benches. Doris led us in a couple of songs to welcome the Lord's presence and then we prayed and travailed for the awakening that we knew we were entering but we cried out for the fullness – "Do It again Lord!"
Lisa read portions of Psalm 91 from the pulpit area as we continued to cry out to the Lord. We ended our time there with communion, which was the very reason they had gathered together on that day back in June 1800 .  As we left, we saw a bonfire outside sitting ready to be lit; and we again cried out, "O Lord, yes, do it again!"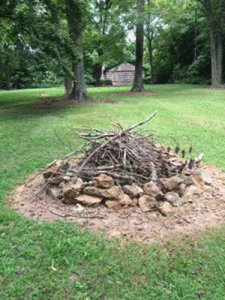 Highway 431 Prophecy and the Angel of Revival
When I returned home, I found a youtube video of Ken Malone and a group just worshiping the Lord there in the Red River Meeting House (a few miles in from Highway 431) . Back in 2010 after hearing about a prophetic word from Ray Hughes that "There will be a move of God-do-ins on Highway 431".  Ken had received a unctioning from Holy Spirit to do an Awakening Tour along Highway 431. Holy Spirit had spoken to Ken and said, "This is an Acts 4:31 highway." (Acts 4:31 – And when they had prayed, the place where they had gathered together was shaken, and they were all filled with the Holy Spirit, and began to speak the word of God with boldness.)
And in the span of just days, I felt this presence beside me as I stood at my front window looking out and I heard: "the angel of Revival is with you now".
Impact of The Second Great Awakening
The effects of the Second Great Awakening with its small beginnings could indeed be felt throughout our nation. The impact not only spanned distance, it spanned time. On October 10, 1821, Charles Finney a young lawyer in upstate New York walked into the woods near his home to have an encounter with God: "I will give my heart to God, or I never will come down from there."
After several hours, he returned to his office, where he experienced such forceful emotion that he questioned those who could not testify to a similar encounter.
"The Holy Spirit … seemed to go through me, body and soul," he later wrote. "I could feel the impression, like a wave of electricity, going through and through me. Indeed it seemed to come in waves of liquid love, for I could not express it in any other way."
The next morning, Finney returned to his law office to meet with a client whose case he was about to argue. "I have a retainer from the Lord Jesus Christ to plead his cause," he told the man, "and cannot plead yours." (www.christianitytoday.com)
Finney's ministry so transformed an entire region such that it became known as the "burned over district" – the city of Rochester New York was particularly impacted and changed. Social reform also came out of this wave of revival
Finney himself was a strong abolitionist and he encouraged Christians to become involved in the antislavery movement. Christians became the leaders in many other social concerns such as education, prison reform, temperance, Sabbath observance, and women's rights. The large numbers of Christian workers for social reform became so influential they and the organizations they founded became known as the Benevolent Empire. It has been reported that the Second Great Awakening had a greater effect on society than any other revival in America. (www.christianity.com)
We say, "Yes Lord, Do It Again!"