From Beginnings to Going Beyond!
Dare County – Land of Beginnings
This year we chose Dare County  (the easternmost county within our immediate  territory)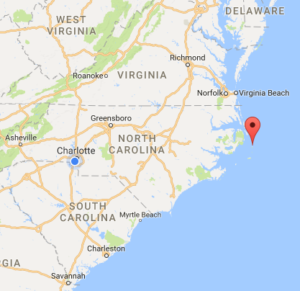 to spend an extended weekend in for two reasons: 1)  it is the location within our territory that was "our beginning" of becoming the USA; and 2) it is a place where we could "go beyond" to add our prayers for redemption, reconciliation, & restoration for the First Peoples of our region, the Europeans, and the enslaved & then freed Africans (see Stories from Fort Raleigh). More history notes can be found at these links for: the Croatoans, an Algonquian tribe; the story of the Lost Colony and Virginia Dare for whom the county was named; and the Freedmen Colony.
Our team initially skipped visiting this county as we personally know other teams who have worshiped and prayed there. But our dear sister, friend and one of the chief Intercessors for our ministry, Charmaine James, kept mentioning Roanoke Island and its significance (site of Sir Walter Raleigh's first expeditions, home of Fort Raleigh which was home to The Lost Colony and The Freedmen Colony as noted above plus the location of Manteo, the county seat.)
Four key prophetic things that confirmed our assignment:
We were able to gather key intercessors, each with different giftings to join us – Charmaine from TX, Ann Strickland from PA, Susan Napier from DE, and Audrey Hosley from SC.

Our Dare County Team

The Lord "orchestrated" a prophetic act at the Cape Hatteras Lighthouse. The park rangers, the lighthouse "gatekeepers", gave us an "impromptu" tour – tours were not normally given in the winter. Initially the "double doors" of the lighthouse were stuck shut due to the weather conditions, but as we quietly prayed, the rangers were able to "swing wide the gates" for the Lord's ministers – prophetically giving an open invitation for the preaching the gospel of the kingdom throughout our land!The Year 2018 is the Year 5778 on God's Hebraic calendar – both these numbers carry prophetic promises about open double doors, gates, triumph and new beginnings.

Cape Hatteras Lighthouse

An Impromptu Tour

The Double Doors

Gatekeepers & Ministers

The Way is SHUT

Quiet but Firm Prayers from the rear

Swinging Wide the Gates

Double Doors Opened!

Making Way for HIS LIGHT!

While we were at the Wright Brothers' National Memorial site, Krystal from our team was impressed to pray for the Boy Scout Troop that happened to be there at the site with us. And, lo & behold, they were tender-hearted before the Lord – so we were able to pray for the next generation represented by this Boy Scout troop (& their leaders), who "just happened" to be from Charlotte. Our ranger (who "just happened" to slip in several edifying object lessons in the midst of his talk) also allowed us to prophesy and pray over him. Very humbling experiences!

Wright Brothers Memorial

Ranger talk

Ranger talk

Holding out a baton through Prayer & Prophecy

Humbling…

So receptive – amazing!

The Lord was there!

A word for an awesome man of God!

Impacting generations!

Out of sharing the Ride The Wind Vision, specific plans for outreaches in Uptown Charlotte were solidified with full funding provided – see below for the plans for First Ward; another outreach is being planned in Uptown Charlotte for the Fall.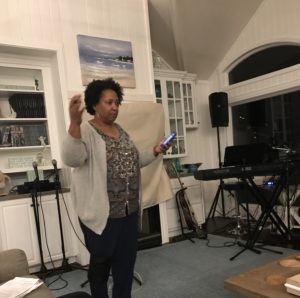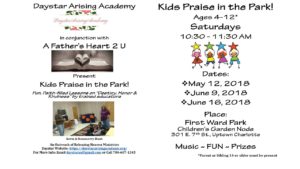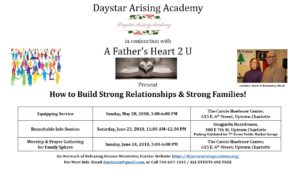 Other key moments
Graveyard of the Atlantic Museum  – it is reported that more than 2,000 shipwrecks occurred off the Coast of North Carolina (dubbed the "Graveyard of the Atlantic") from war, piracy and mysteries. The museum displays some of these artifacts as well as other exhibits.
More Cape Hatteras Lighthouse pics  – tallest lighthouse in NC which protects one of the most treacherous stretches of the Outerbanks.
More Wright Brothers National Memorial Site pics  – from small beginnings to global achievement – they taught the world to fly!
Fort Raleigh pics  including The Lost Colony  and The Freedmen Colony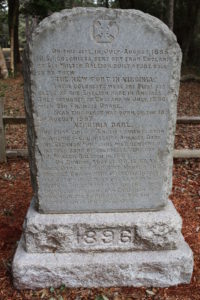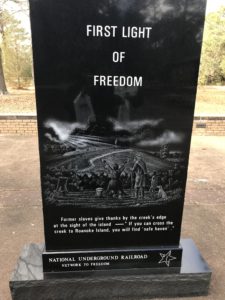 Worship with Apostolic-Prophetic Decrees – Opening the Heavens & Sealing the Seeds Sown
Onslow County  – Another Beyond!
HKRI Awakening Reality Weekend, Jacksonville, NC "Beginning A New Cycle(s) ….ENTERING BEYOND" – January 26-27, 2018
Derek Prince Prophecy 1975
We were asked by Audrey Hosley, Founding Apostle of His Kingdom Reality International, to help lead worship at her conference in her hometown of Jacksonville, NC.  While praying about this assignment, I (Yvonne) began thinking about the prophecy released by Derek Prince in Jacksonville back in 1975 and passed that along in a note to Audrey and to the rest of our RHM Team. Audrey responded that the Lord had revealed that prophecy in her spirit as well plus she had very recently been in the Church where the prophetic word was released plus she would be there again in just a few days.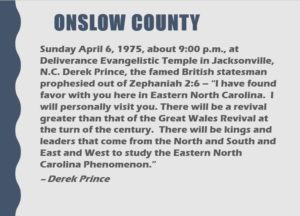 Dr. Tim Hamon – Elijah List Excerpt January 19, 2018
Then Doris, RHM Worship Leader,  sent a note about a week later about how, during her prayer time, that she had been thinking about the "Riding the Wind" Vision released during our time in Dare County, and came across an Elijah list post by Dr. Tim Hamon entitled "A Second Wind of the Prophetic is Here: Prophesy to Your Prophecies!" Immediately, songs about releasing the Wind of the Spirit rose up within her and we both knew the Lord was leading us to make a decree through song and prophesying that a Second Wind over Derek Prince's 1975 prophecy was NOW being released.
In his Elijah List post, Dr. Tim  released a prophetic teaching based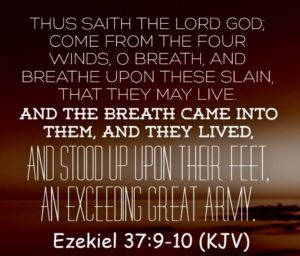 out of Ezekiel 37. Just as in verse 9 where Ezekiel repeats the Word from the Lord "Thus says the Lord God: 'Come from the four winds [ruach], O breath, and breathe on these slain, that they may live.'", we likewise must "prophesy to the inspired words that we have already been given". We are to say to them, "come alive" because up until now…"these bones were slain… this was a group of people who were defeated…an army that lost a battle… and they are being restored and re-equipped…".
"Come alive! Everything that you have purpose to be and do, come alive! Everything that failed in the last season, come alive! Every place you walked and didn't make it, come alive! Every door that didn't open, come alive! Army arise. Arise in this day! Come alive! Let the Spirit come upon you, let the breath of God flow over you! Come alive in this day, it's the second wind! It's the second wind of the prophetic. It's coming alive right now! Prophesy to the Spirit, prophesy to the Word, prophesy to your destiny, and come alive! Come alive! Come alive! …"
Second Wind: Prophesying  Coming Alive – January 27, 2018
So a portion of our team was able to help sow a second wind into Derek Prince's Eastern North Carolina prophecy with  Audrey and the Conference Speakers and her Leadership Team. Attendees, some of whom were actually there to hear the prophecy live from Derek back in 1975, were powerfully activated in prophesying. Apostles, prophets and teachers released a sound, released understanding and we saw generations including those over 70, their sons, daughters, grandchildren plus Niko Peele and his team flow together to war over that harvest field. Marriages also received a second wind via a special session led by  RHM Pastors Kevin and Rosemerry Blash.
Testimony
Audrey recently called me (Yvonne) to testify how our participation in her January Conference helped break open the response from the business, government and church communities for her May Conference – the registration numbers had at least tripled!
Prophesy over your prophecies, COME ALIVE & GO BEYOND!!!