We searched and searched our area's event pages looking to participate in something that would honor our military during Memorial Day weekend. And alas, what we found were fun family days – carnivals, fairs, cookouts –  so we decided to do something.
Freedom Isn't Free – May We Never Forget!
Our team gathered on Memorial Day at St. Mary's Chapel in Charlotte as it shared location with the Mecklenburg County Vietnam Veterans Memorial and we offered up worship to our Lord and prayers for all those who served, especially those who gave the ultimate sacrifice in all wars and during peace times,  and for their precious families.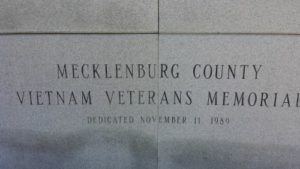 Thank You!
We shared our love for our military – our sons, daughters, brothers, sisters, fathers, mothers, friends who answered the call. We shared memories of past times of parades and celebrations, we cried out about the horrors of war but stood for its purposes, we repented of not honoring our soldiers in times past, we thanked the Lord for our nation and we repented of our falling away from honoring Him, we offered up several Scriptures and made powerful decrees, we cried out for those soldiers still hurting and those families that were still broken, we prayed for the ministries and organizations who dedicated their efforts to helping, we rejoiced over the testimonies of soldiers helping soldiers, we cried out for wisdom, protection, provision & favor over all those on active duty and their commanders, we specifically prayed for the military bases in the Carolinas, and we spoke prophetically over the few families that had ventured into what had truly become a holy place. We felt the Lord's presence and His pleasure from beginning to end!
God Bless America, God Bless Our Military!
"When you go out to war against your enemies, and see horses and chariots and an army larger than your own, you shall not be afraid of them, for the Lord your God is with you, who brought you up out of the land of Egypt. And when you draw near to the battle, the priest shall come forward and speak to the people and shall say to them, 'Hear, O Israel, today you are drawing near for battle against your enemies: let not your heart faint. Do not fear or panic or be in dread of them, for the Lord your God is he who goes with you to fight for you against your enemies, to give you the victory.'
John 15:13 ESV
Greater love has no one than this, that someone lay down his life for his friends.
Psalm 144:1-2 ESV 
Of David. Blessed be the Lord, my rock, who trains my hands for war, and my fingers for battle; he is my steadfast love and my fortress, my stronghold and my deliverer, my shield and he in whom I take refuge, who subdues peoples under me.
Psalm 33:12-22 ESV 
Blessed is the nation whose God is the Lord, the people whom he has chosen as his heritage! The Lord looks down from heaven; he sees all the children of man; from where he sits enthroned he looks out on all the inhabitants of the earth, he who fashions the hearts of them all and observes all their deeds. The king is not saved by his great army; a warrior is not delivered by his great strength.
Matthew 24:6-8 ESV 
And you will hear of wars and rumors of wars. See that you are not alarmed, for this must take place, but the end is not yet. For nation will rise against nation, and kingdom against kingdom, and there will be famines and earthquakes in various places. All these are but the beginning of the birth pains.
Matthew 8:5-10 ESV 
When he entered Capernaum, a centurion came forward to him, appealing to him, "Lord, my servant is lying paralyzed at home, suffering terribly." And he said to him, "I will come and heal him." But the centurion replied, "Lord, I am not worthy to have you come under my roof, but only say the word, and my servant will be healed. For I too am a man under authority, with soldiers under me. And I say to one, 'Go,' and he goes, and to another, 'Come,' and he comes, and to my servant, 'Do this,' and he does it." When Jesus heard this, he marveled and said to those who followed him, "Truly, I tell you, with no one in Israel[b] have I found such faith.