Praying for our Eastern Seaboard  – He Trains Our Hands for War!
Dr. Martin Luther King, Jr., Harriet Tubman, Haitian Soldiers & The Marines…
We ventured down to the Sea Isles of Beaufort County on Dr. Martin Luther King, Jr.'s birthday celebration weekend to a region we found out that Dr. King actually frequented to both rest and strategize with his team  during the Civil Rights Movement.  One of our main intents that weekend was to pray for protection over our Eastern seaboard.  There had already been an unctioning to do so; and then different prophetic voices warned of possible trouble coming through our Carolinian Coastal Cities.
Harriet Tubman
And we also went to seek what the Lord may be saying in this fresh season of awakening.  Back in December 2012 at the time of the birthing of this ministry, I (Yvonne) sought some prayer time at a place in Hilton Head which is a part of Beaufort County.  Beverly Lockhart, an apostolic prayer warrior and friend, had joined me that week and we casually entered into prayer together one evening.  As we prayed in the Spirit, I began to see scenes of Harriet Tubman and the Underground Railroad.
I had never heard of Harriet Tubman being in Hilton Head so I stopped to look it up  and indeed she had been called on to gather and train the slaves that had just been freed when the Union army commandeered some of the islands. The article found included this quote – Historian H. Donald Winkler, in his book Stealing Secrets, writes: "Harriet and her nine-man spy team evolved into a kind of special-forces operation for the black regiments. Her team sneaked up and down rivers and into swamps and marshes to determine enemy positions, movements, and fortifications …"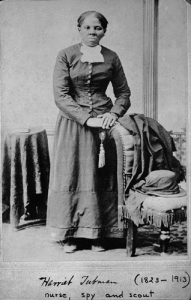 In one military raid, her team's actions not only led to a military victory but 700 slaves were set free. "They [reminded] me of the children of Israel coming out of Egypt."
Then further along in our prayer time, the Lord quickened me that He was setting in motion a spiritual underground network that would  stir and awaken those who were almost unknowingly bound, and that this network would not only impact the Carolinas but other cities up and down the East Coast. So we "came back" to Beaufort county to also step into that portal of covert operations that could thwart our enemy and set the captives free!
Recon at Penn Center – "Scouts & Spies" on Assignment
We set time aside to do some local "recon" and to hear from the Lord in order to make our Worship & Prayer time scheduled for Saturday night as effective as possible. One place we ventured out to was Penn Center nested amongst the Gullah people on St. Helena's Island – this was the place Dr. King frequently visited. `
The Gullahs are descendants of West African slaves who were able to hold onto some aspects of their language and culture due to the hands-off approach the rice plantation owners had towards their farming operations.  Not surprisingly, during the Civil War, the plantation owners quickly abandoned their lands and the Gullahs stepped right into freedom under Union rule. Quaker missionaries started several schools including Penn School in 1862 to provide formal education to the former slaves. In 1901 the school transitioned to an Industrialized Arts based curriculum such as was promoted by Booker T. Washington and taught at Hampton and Tuskegee Institutes.  Then in the 1960s, Penn Center, as it was renamed, transitioned again to be a sanctuary for the Civil Rights movement.
We took time to walk through their museum and converse with a volunteer who had quite a story himself to tell
and then we walked over to the Gantt Center where Dr. King stayed so we could gather to pray.
A prophetic sign – Spanish Moss everywhere
We spent the first several minutes before entering into prayer talking about how all of the trees throughout Penn Center, including those in front of the Gantt Center, were loaded down with Spanish Moss hanging from their branches.
"It felt like the land did not want to be inhabited, which is not biblical. We are called to possess the land, be fruitful and multiply…" "I feel like we tapped into something the enemy has been doing in regard to smothering that area with a false covering (like the Spanish Moss) that seems attractive at first glance but in reality sucks the life from it."
We first thought the moss was full of parasites but we later discovered that "Spanish Moss actually blocks the light from being received by the host tree, thereby prohibiting the branches and leaves from getting  the nourishment that they need".
Releasing His Light!
So we took our place of authority to unseat what was false and oppressive, and we called forth divine strategies to once again be stirred in this place of meeting, strategies that would forever destroy poverty and racism. We prayed that any remaining iniquity from slavery or segregation would be plucked up and pulled out; we came against any unfair trade or inequity in the property valuations, zoning, etc.; we prayed that once again education would be productive to prepare people for their God given destinies; we prayed that the stories of the love and sacrifice of the Quaker missionaries and of  the joy that many of the students who attended experienced would be broadcast; we prayed that the families that lived or visited the surrounding area would find the Lord and  receive His rest, His peace, His valuation, His spirit of comfort and refreshing – His Light!
East Coast Worship & Prayer
And then later that night, we stepped into His Presence with an awesome time of Worship & Prayer for the East Coast in a house right on the coastline. One of the team later shared how "we as a body of believers are a critical force in protecting our nation from the plans of the enemy.  I felt a sense of power, kind of like a force field, as we entered into worship, protecting the coastline from attack."  Another remarked, "The open and picturesque view of the horizon from the beach made me pray for continuing peace. There is a call for us to add the coastline to our daily prayers…"
During worship, I (Yvonne) had a vision of chariots of fire in the sky and angels of fire touching down on the beachfront and going forth throughout the islands and onto the main land. Another watchman saw a wall of angels with swords drawn.  And another saw the throne room of God with expansive thunderings and lightnings being loosed around us and upon us. Then later during our prayer time, I saw a translucent armor-like veil being hung along the full length of our coastline.
Watching God's Power!
And within several days of our return home, we felt like the Lord confirmed all that He accomplished through our time in worship as we read the headlines: "East Coast braces for heavy snow, epic blizzard". The Lord quickened me that the strengthening of this storm was a response to the prayers we offered up – He said some things are being delayed, some things are being cancelled, some things are being stilled, some things are being cleansed.

Job 37:1-7
"My heart pounds as I think of this.
It trembles within me.
2 Listen carefully to the thunder of God's voice
as it rolls from his mouth.
3 It rolls across the heavens,
and his lightning flashes in every direction.
4 Then comes the roaring of the thunder—
the tremendous voice of his majesty.
He does not restrain it when he speaks.
5 God's voice is glorious in the thunder.
We can't even imagine the greatness of his power.
6 "He directs the snow to fall on the earth
and tells the rain to pour down.
7 Then everyone stops working
so they can watch his power.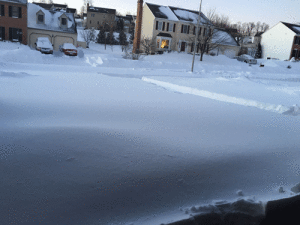 Another prophetic sign –  The Underground Railroad
On Sunday, we ventured into Savannah, GA on a mission and it "just so happened" we were just in time to take a tour of The First African Baptist Church, the oldest African American Church in North America. It was first organized in 1773 but then in December of 1777, the church was officially constituted as a body of organized believers.
It was amazing to see what an enslaved people were able to build. Some of the original pews still exist and are in the balcony. "On the outside of the pews are markings written in the African dialect known as 'Cursive Hebrew'."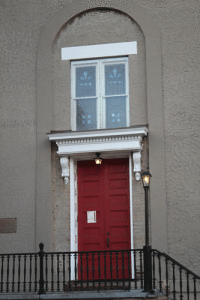 Our tour guide further pointed out how the church was used as a station on the "Underground Railroad". The red door of the church along with the 'Nine Patch Quilt' designed in the ceiling of the church represented that it was a safe house for slaves. "The Nine Patch Quilts" also served during that time as a map and guide informing people where to go next or what to look out for during their travel.
We then went down to the lower level where the finished sub-floor was the actual "station" on  the "Underground Railroad".  Our tour guide pointed out how the African prayer symbol designed by creating holes in the floor actually served as air holes for the slaves hiding below.
She mentioned that no records were kept so it is unknown how many slaves passed through the church. She emphasized how organized and tight the communication was in those days by letting us know that no one has yet to find the actual tunnel entrance.  Our young hostess further remarked how the story of the Underground Railroad is not just a "Black  History" story, but it is instead a story that the whole church of Jesus Christ should be proud of – it stands as a testimony of true unity for those simply called by His name, who together – whether black or white – served as "lights" in a time of great darkness, each one putting their own lives and the lives of their families at risk to help another. Yes LORD, do it again!
The Haitian Soldiers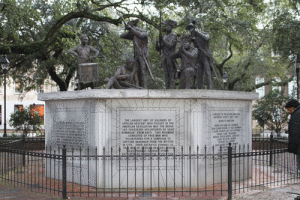 Our mission to venture into Savannah was to actually honor the Haitian soldiers who fought for America's freedom.  We first heard about these soldiers from our brother in the Lord, Venol, whom we met during one of our mission trips to Haiti. Bro. Venol works at the Haitian National Museum (Musee du Pantheon National Haitien) in Port-au-Prince. He told us that Haitians were so passionate about their freedom that they helped five other nations including America fight for their own freedom.
Our research found this tribute:
"Haitian unit of Soldiers fought valorously on October 9th, 1779 alongside the French with the Allied American troupes and helped saved the day at the Siege of Savannah Battle. A monument to their memory has been erected October 8th 2007, in Franklin Square Savannah Georgia."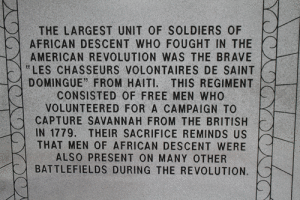 Further research unveiled that the monument is actually built on the site of a slave auction. Kevin, one of our ministry leaders, remarked that he felt this was a link to redemption for man and to God.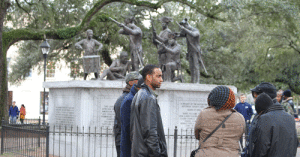 So in honor of our brothers and sisters in  Christ in Haiti, we declare our gratitude and we ask the Lord to reward all of Haiti for their heart to help others be set free.
We return to Haiti today (April 2nd) to visit Leogane, the town which was the epicenter of the 2010 earthquake, to make prophetic declarations there on behalf of all of Haiti, and to also sow into the Education Mountain there.  We will be visiting Elaine Rensink and her wonderful Lespri Haiti Mission, Orphanage and School in Leogane, then also going onto the School in Grande Saline run by Dr. Robinson and supported by Dr. Jen and the SUNY Broome Health for Haiti Project, and finally paying a visit to Papa Estinfil's Good Shepard Orphanage in Archaie.  We will also meet up with our dear brother Venol at the Museum in Port-au-Prince – we are glad that we will be able to share our outing to the monument with him and to also tell him how even the location of Haitian Soldier monument "speaks" of redemption!
Our final wartime venture – The Marines – Parris Island Museum
Parris Island is the second oldest post in the Marine Corps and it is the longest continually operating recruit training installation.  We wanted to visit before we left Beaufort County to honor and bless our military so we planned a Monday morning outing to the Parris Island Museum.
Upon our arrival, we were very cheerfully greeted by two "non-active duty" Marines – once a Marine, always a Marine . When we told them that we came there to pray a blessing over them and all of our military, one of them quickly gave testimony of how in the midst of war, a gentleman from the Salvation Army jumped in their foxhole to pray for them and give them a bible. This seasoned soldier acknowledged that prayer has always made a difference, especially in times of war.  He then very graciously pointed out a spot where we could gather to pray amongst the exhibits.
The displays and exhibits clearly depicted the base's  involvement in every major American conflict since its founding, including: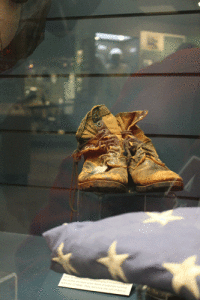 41,000 recruits in World War I
205,000 in World War II
138,000 in Korean War
250,000 in Vietnam War
The displays also echoed 
the Marine Corps core values of
honor, commitment and courage
 along with the traditional Marine Corps concepts that include every Marine a rifleman, first to fight, tradition, fitness, teamwork, take care of our own, and small-unit leadership. (
Read more
.)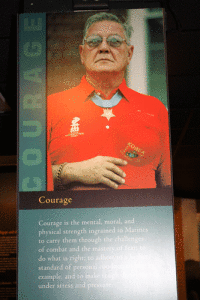 We began our prayer with deep gratitude for those who answered the Lord's calling in serving, in fighting for freedom, in keeping us safe. We repented for taking their service for granted and often-times dishonoring them when they returned from war. We prayed for those who were injured and troubled by PTSD. We prayed for all families of the military as they also serve along with their loved one and we prayed for those who had to walk through their loved ones having made the ultimate sacrifice.
We prayed for military leadership, for wisdom, divine strategies and supernatural revelation, and for provision for our troops. We came against any corruption and we prayed for full protection from enemies natural or spiritual.
We then asked the Lord to help us shift our mindset and to humbly learn from our military – to learn how to be good  soldiers in the army of the Lord – to have discipline, the right attitude, to have courage, to not be quitters or doubters – to face our troubles knowing that the Lord has equipped us, trained us and is there with us, including His angel armies.
We ended by calling out by name those dear to us who are actively serving now or are in training, And we were blessed to be able to pray for our gracious host.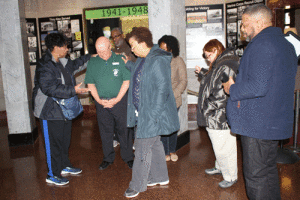 Final Proclamation!
We say AMEN Lord – we will go into the trenches to rescue those enslaved by sin, those who are oppressed, those who are defenseless.  We will be trained – armed, equipped, ready with the weapons of our warfare – the Spirit of God, the Word of God, the Voice of God, the Blood of the Lamb, our testimony – that can pull down strongholds, take captive every contrary thought, and can loose life, light & blessing.
Set a fire O Lord down in our bones to seek hard after You and not relent until!